The chances for the Pheu Thai Party explained by Dr Termsak Chalermpalanupap
(CNA)

Commentary: Could Thai voters put a third Shinawatra in power after Thaksin and Yingluck?
Winning at the polls on May 14 may not guarantee an actual victory for Pheu Thai favourite Paetongtarn Shinawatra nor her father Thaksin, says ISEAS-Yusof Ishak Institute's Termsak Chalermpalanupap.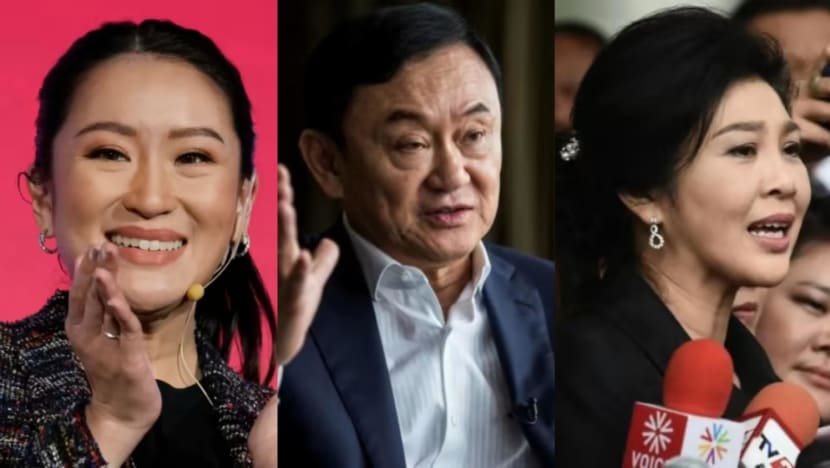 28 Apr 2023 06:27AM(Updated: 28 Apr 2023 06:27AM)
SINGAPORE: Seventeen years after exiled former prime minister Thaksin Shinawatra was ousted in a coup, his youngest daughter Paetongtarn Shinawatra, 36, has been leading opinion polls for the same job in recent months.
Pheu Thai, the largest opposition party, which nominated her as one of its three candidates to be prime minister, is also currently expected to win the largest number of seats in Thailand's upcoming general election on May 14.
Yingluck Shinawatra, Thaksin's younger sister and Paetongtarn's aunt, had been prime minister until she resigned in 2014, two weeks before a military coup toppled her government. If election outcomes were to follow the polls, could Thailand soon see a third Shinawatra in power?
PREVAILING ANTI-GOVERNMENT SENTIMENTS
Many in Thailand are unhappy with the political status quo. A large majority of voters in Bangkok and urban areas in the provinces have indicated they want a change in government.
But surveys tend to capture the sentiments of urban respondents – easily accessible to pollsters – and name recognition, which are shaped by media exposure. They usually miss a large majority of voters outside of provincial centres, who may vote with their wealthy patrons or influential village heads.
Veteran politicians in Thailand rely heavily on patronage networks of influential families to win elections. Party label, policy platform and reputation of party leadership are secondary.
Even in Chiang Mai, a Pheu Thai stronghold and Thaksin's hometown, a sweep of all the seats at stake there isn't guaranteed. Opposition party Move Forward is also gaining ground in Bangkok and is currently expected to win more seats than Pheu Thai.
NO PHEU THAI LANDSLIDE VICTORY?
Failure to achieve a landslide victory will put Pheu Thai in a precarious position.
Based on the NIDA Poll and The Nation Poll, both released in April, Pheu Thai could win no more than 240 House seats, 11 seats short of the minimum majority in the 500-seat lower chamber.
To form a viable government coalition, it would need support from fellow opposition ally Move Forward. In return, Pheu Thai would have to accept some of Move Forward's sensitive policy initiatives – including reforming the monarchy.
Related: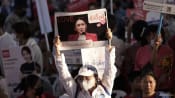 Alternatively, Pheu Thai could avoid upsetting the conservative establishment by working with some government parties. But doing so would alienate a large number of its supporters who are anti-government.
Pheu Thai already found itself in such a situation after the 2019 general election. Pheu Thai won the most seats (136 seats) but only had 245 seats as a coalition of seven parties. The government was formed instead by a coalition of 19 parties led by Palang Pracharath with 254 House seats.
SENATORS HAVE A BIG SAY IN PRIME MINISTER CHOICE
Winning at the polls in May will not be enough for Pheu Thai to usher Paetongtarn all the way to the next premiership. It still may not have the minimum of 376 votes in the combined session of house parliamentarians and senators.
All 250 senators were hand-picked by the military regime headed by then General Prayut Chan-o-cha before the 2019 general election. In 2019, Palang Pracharath's candidate easily won nearly all the senators' votes – and became Prime Minister Prayut.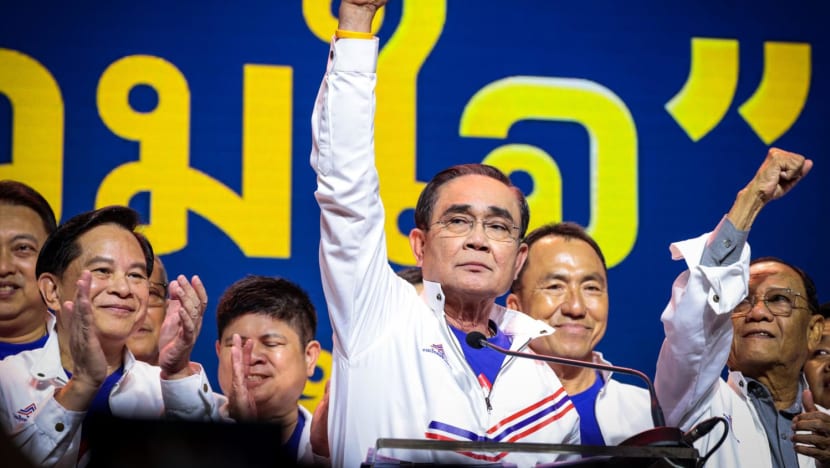 Not many of the senators would vote for Paetongtarn or Pheu Thai's two other candidates, real estate tycoon Srettha Thavisin, and veteran lawyer Chaikasem Nitisiri, in the premiership selection in parliament after the general election. A majority of the senators is expected to support either Prayut, who switched to the new United Thai Nation party, or Deputy Prime Minister General Prawit Wongsuwan, leader of Palang Pracharath.
Even if Pheu Thai can form the majority alone, senators may abstain from the vote. Pheu Thai would need the support of other opposition parties or major government parties to cross over to vote for Paetongtarn to win the premiership with 376 votes. This may not happen.
THAKSIN'S FINAL BET
But Thaksin is probably still pinning his hopes on Pheu Thai's landslide victory in May that could make his dream of returning home from exile come true. A resounding mandate to form the next government could give it more leverage to overcome the senate vote.
Thaksin had been instrumental in fielding Yingluck as a surprise candidate of Pheu Thai in the 2011 general election. It swept 265 House seats with the slogan "Thaksin thinks, Yingluck acts!"
This time, he has sent in yet another surprise candidate, Paetongtarn. But for now, he has avoided being seen to do anything for his daughter or Pheu Thai.
Related:
He has stopped his weekly Tuesday talks on social audio app Clubhouse, where he goes by the alias Tony Woodsome, to distance himself from the election. He is being careful not to make any serious misstep that could lead to the dissolution of Pheu Thai.
With less than three weeks until the election day on May 14, Pheu Thai's dream of a landslide victory is probably wishful thinking. Thailand may not see the third Shinawatra prime minister after all.
Dr Termsak Chalermpalanupap is Visiting Fellow and Coordinator of the Thailand Studies Programme, ISEAS – Yusof Ishak Institute.